I'm sorry to disappoint all my loyal readers, as there are actually quite a few of you out there, but I just don't have the will to write a good post today. As sometimes happens, I had this great idea all planned out that simply did not materialize the way I hoped it would, so I'm going to take the night off and save it for tomorrow.
In the meantime, don't forget to check out all the other Twins blogs out there:
Twins Geek
,
Aaron Gleeman
(who's skill level I hope to someday approach),
Seth Speaks
, and last but not least,
BatGirl
. BatGirl is really moving into the mainstream now, as she even has her own
Online Emporium
! How cool is that--official merchandise for a blog!
If you're also looking for something interesting to read, I highly suggest that you check out
Chris Kline's minor league tour diary
over at Baseball America. Kline is a writer for BA, and the Pirates' organization agreed to let him become a "player" for both their AAA and high-A minor league teams for a week. He did everything that the players did except play in the games, including batting practice. This 8-part series (and I highly recommend you read them all) is both hilarious and informative at the same time. If you've ever wondered what life is like for the thousands of professional players who AREN'T in the major leagues, you'll get something out of this diary. Plus, former Twins catcher Tom Prince happens to be the manager at single-A Lynchburg, which is one of the teams that Kline "played" for. I always knew Princey would make a good manager someday and it appears that day has come sooner rather than later. Just thought I would share this interesting tidbit.
I did go the game yesterday afternoon, and even though it was disappointing that the Twins lost, I'm not entering panic mode just yet. Gardy had very few options out of the pen, and I'm glad we finally saw the true colors of Aaron Fultz. Jesse Crain wasn't overly impressive in his stint either, but I'm now fully convinced that Fultz should be the one to go next week when Balfour gets healthy.
Thanks for stopping by Twins Chatter and hanging in there with me while I fly solo for the second time in the past month. The difference between writing 2 or 3 and 5 posts a week is actually larger than I imagined, but I'll keep throwing my thoughts, analysis, and opinions out there every day in case something sticks. Have a good one.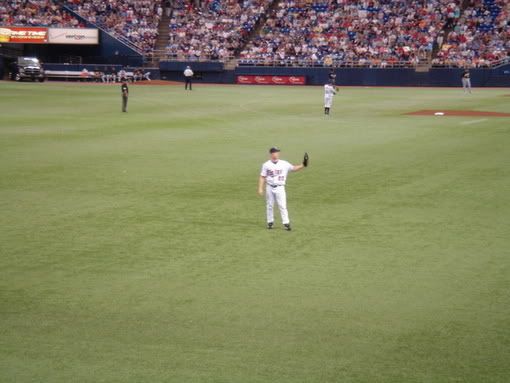 This is the view I had from my seat on Monday afternoon. Lower GA is still the best deal in town!