Yesterday's extra-inning 10-9 win over the Royals was filled with so many notable occurances that I felt could not go un-commented upon here at TC, so I'm going to break my week-long string of (relative) silence and put up an original post today - bullet point style.


The bubble finally burst for Dave Gassner, as he was absolutely pounded by the previously-punchless Royals yesterday afternoon, allowing five runs (four earned) in just an inning and two-thirds. I had very much hoped it was the real Gassner that shut down the Indians last Saturday, but I fear the one who showed up today is closer to reality. When you don't have much velocity as a pitcher, you're margin for error is just that much smaller. Gassner throws everything but gas, and it hurt him Thursday when his control wasn't impeccible.


Lew Ford seems to be back on track after an auspicious start to the season. He went 4-6 yesterday (and is now 7 for his last 12) and drove in the game-winnnig run with a bases-loaded (imagine that) RBI single in the 10th. Jim Souhan wrote a nice little piece about TC's official player today, as it appears he may have made the necessary adjustments after suffering through a slow spring and first three weeks.


Was anyone else out there a bit surprised at how Gardenhire managed his catching situation at the end of the game yesterday? Mike Redmond, playing for the first time in week after Mauer had caught three straight games, had to leave the game in the eigth after a collision. Corky "Corky" Miller (sorry, couldn't resist that one) replaced him defensively, but interestingly enough, Gardy pinch-hit Mauer for Miller in the 9th inning with the winning run on third. Now I completely agree with Gardy's decision to use Mauer in that situation (even though he was intentionally walked), but I just find it a bit interesting that he would do it in an extra-inning affair. The game could have easily gone on a quite a bit longer, with Joe catching an extended amount for an unprecedented (this season at least) fourth consecutive day. Any thoughts?


Tonight's game against the Tigers marks the return of one Carlos "The Jackal" Silva, who is back after a bizarre (and as it turns out, unnecessary) trip to the disabled list. The improbable return of Silva and the reemergence of Joe Mays really brings home exactly why the Twins remain the team to beat in the Central this season: they have pitching, and lots of it.


Justin Morneau also returns to the lineup tonight, and he will hopefully provide some needed production in what has been a very inconsistent offensive unit thus far. It also means the defensive circus that is Matthew LeCroy gets to ride the pine for a while, which is never a bad thing.


There ya have it folks - plenty of storylines to follow this weekend. It should be an entertaining series to watch, as the Tigers get another chance to prove that they are legitimate contenders this season. Tune back in on Monday as I'll be back with a weekend recap of the series. Until then, have a great weekend everybody.
-Ryan M.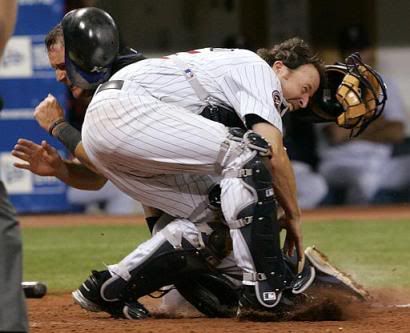 Mike Redmond and Mike Sweeney collide at home plate during the 9th inning of yesterday's game. Sweeney was safe on the play and Redmond was forced to leave the game.