Well, it's now official. I have moved on from last week's disappointment(s) and have accepted the fact that the long, dark, cold Minnesota winter is well on its way. However, let us not so easily forget those joyous times of spring and summer, when we basked in the light of our favorite hometown nine. Let us push aside thoughts of impending doom and instead relive the glorious moments of our (relative) youth. Let us look back at the highlights from the 2004 Minnesota Twins.
April
Ah, April. What a month that was. No one knew how the new-look Twins would respond to the rigors of major league competition. Would the bullpen fall apart? Would the rotation crumble? Shannon Stewart made us forget all those questions with one swing of the bat on Opening Day. His three-run homer in the 11th inning led the Twins to a 7-4 victory that night. Man, what a game! You simply had to be there in person.
The Twins jumped out to a 15-7 record in April, which was due in large part to the efforts of two men: "Sweet" Lew Ford and Carlos Silva. Ford (who, in case you didn't know,
was named Official Player of Twins Chatter
on April 23) was simply amazing: despite starting the year at AAA he hit .419 with 17 RBIs and a 1.181 OPS in April. Silva was almost as good, going 4-0 with a 4.02 ERA in the month. Even
Henry "Babe" Blanco
and Jose Offerman got into the act! April truly was an improbable month, as the Twins finished at the top of the league in hitting yet almost dead last in pitching. Looking back, it seems like a lifetime ago!
May
May was a month of ups and downs. The Twins would temporarily relinquish their division lead to the White Sox, although it would never get too far out of reach. Since we are indeed "waxing poetically", I'll focus more on the positive moments for now. Who could forget Matty LeCroy's amazing ninth inning, two-out, pinch-hit, game-winning grand slam in Toronto on May 19? I doubt many of you saw the play live since it happened at about two in the afternoon, but it was a moment I will never forget. That at-bat simply could not have been scripted any better. May might have been a rather forgettable month for the Twins in general (Johan pitching like crap, numerous losing streaks) there is always a light to be found even in the darkest of places.
June
June may not have been the best of months for the team (the Twins posted a 16-14 record) but it was one of many memorable moments. Remember the day Jose "Awfulman" became, well, just regular Jose "Offermann"? It was June 10. It seemed the Twins were on the verge of wasting yet another strong pitching performance, this one by Kyle Lohse, when Offerman pinch-hit with two outs in the bottom of the ninth. LeCroy, of all people, was the runner on first. I remember watching almost in a state of shock when Offerman somehow redirected a 97-mph fastball from Mets closer Braden Looper to the leftcenter gap. Amazingly, LeCroy somehow made it
all the way around the bases
on that double, and with a little help from CF Mike Cameron, the Twins were able to tie the game. In the 15th inning of that same game, Mike Ryan's strange infield single would send the Twins faithful home happy. What a game!
June could also be known as the "Month of Joe", as it was the only full month Twins fans got to see their favorite hometown prodigy, Joe Mauer. One thing was for certain: Joe did not disappoint. He hit his first major league homer on June 6, a mammoth three-run go-ahead shot in the 8th inning, was almost cause for celebration in the Twin Cities. Joe hit four more homers that month and had 11 RBIs, definitely establishing himself as one of the team's best all-around players. We may have only had a month and a half of Mauer (he didn't play after July 15) but it gave us a sneak peak at what's in store for 2005.
Towards the end of June, we also saw a rediscovery of sorts from a guy named Johan Santana. Little did we know what lay in store over the coming months…
July
If June was the "Month of Joe", then July 2004 must heretofore be known as the "Month of Johan". Simply put, Santana was utterly brilliant. The Twins' offense was still in the throes of the "sucking time" (according to Batgirl) but Johan did everything but suck. He allowed only 14(!) hits and 6(!) earned runs in 46 innings that month, which is nothing short of Orel Hershiser mind-boggling. He won only three of six starts, but posted a 1.17. We all remember that the Yankees got nine hits off Johan the other day, but back in July, teams
simply did not get hits off Santana!
Teams considered themselves
lucky
if they scraped together three hits and a run during a Santana start! August and September were also great months for the soon-to-be Cy Young (he won the AL Pitcher of the Month award all three times) but July was when the best was at his best.
July was a time of brilliance on field for the Twins (the team won 10 of 12 to close out the month) but it was a time of controversy off the field. Doug Mientkiewicz had struggled with injuries somewhat in the first half, and when he came off the D.L. in mid-July, the Twins had a decision to make. Doug most assuredly
did not
play well in the first half, hitting .238 with only 5 homers and 23 RBIs in 281 at-bats. His replacement, Justin Morneau, had become the Twins' most legitimate power threat and had to play every day. The news of Dougie Baseball's "impending" trade broke a week early (I
waxed poetically
then also), and eventually, he was shipped to Boston. In his last weeks as a Twin, Mientkiewicz had become a loudmouth in the media and a distraction in the clubhouse. It was time to move on, even though it didn't happen on the best of terms.
August
August 2004 will forever remembered for that one shining moment: Corey Koskie watching his 10th inning 2-run homer sail over the rightfield fence on August 15. Looking back, it truly was the swing that saved a season (the infamous broken chair deserves a little credit too). But just how did the Twins end up in such a situation? After tearing through the league with a red-hot 13 of 15 stretch in late July and early August, the Twins promptly went into one of their patented funks. During this time, the Indians happened to be playing their best baseball of the season. The Twins rolled into Cleveland for a key three-game series and were pounded into the ground twice. Koskie's homer allowed the Twins to leave Cleveland with their dignity and first-place intact, and they would never look back. A Metrodome sweep of the Tribe the very next weekend essentially eliminated them from contention, and it was only a matter of time before the West (err, I mean Central) would be won.
Quick side note: I would be remiss if I didn't mention the extremely entertaining series the Twins played with the Yankees in mid-July, taking two of three in convincing fashion. That success may not have translated into October, but it did make clear the fact that this Minnesota Twins team was for real.
September
Compared to the rest of the year, September was a rather uneventful month for our Twins. The collective August collapses of Cleveland and Chicago made a third straight division crown all but a certainty, but the Twins continued to pour it on (and I'm not talking about that giant milk bottle in right field). The Twins won 13 of their first 15 games in September, including nine in a row at one point. They would finally clinch (in Chicago, no less) on September 20. We also got to see plenty of up-and-coming Twins last month, the most notable being Terry Tiffee and Jason Kubel. Terry Ryan's magic touch seems to know no bounds, as both players were impressive in their debuts and should contribute in 2005 as well.
Well, there you have it: your 2004 Minnesota Twins month by month. Today's entry deviated slightly from my usual, but as always, it was fun to write. Because of the way the season ended, it's easy to forget all the good times we experienced over the previous six months. It was one helluva ride. I don't know about you, but I can't wait to do it all over again next year.
-Ryan Maus
twinsfan21@msn.com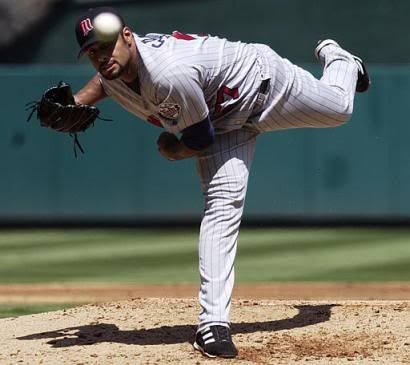 The man who made it all possible: Johan "K." Santana
Have any favorite memories of your own that I neglected? Torii's South Side collision? Louie's controversial "home run"? Don't hesitate to voice your thoughts in the comments section below! There are plenty of memorable moments to choose from, and it I think you'd be surprised at how vivid some of those memories seem!