Whoa. If what took place on Sunday afternoon was not the longest baseball game that I have ever watched or attended or participated in, then I will eat my hat. The game went all Energizer Bunny on the Twins and just kept going, and going, and going, and going... you catch my drift. Despite the fact that the Hometown Nine came out on the short end of the stick, it was still a highly entertaining game to watch, one of the best all season long in my opinion. Who would have thought that Carlos Silva would extend his scoreless streak to 15 innings and nearly outduel Mark "Cy Young" Mulder? Or that Christian Guzman, of all people, would come up with the clutch 8th inning homer (which he absolutely crushed, by the way) to tie the game at 3 apiece? Or that Joe Roa (!) would pitch five innings of one-hit baseball? Or that the Twins bullpen would throw 10 (!) straight scoreless inning? Or that the recently rejuvenated Twins offense would go 10 innings without scoring?
Who would have thought that Terry Mulholland would promptly give up three runs in his only inning of work and render all those other accomplishments totally meaningless? Okay, I would be willing to bet that most of us could probably have seen that last one coming, but you can't be too hard on ol' Gramps. He had already thrown a bullpen and done his regular workout earlier in the day, so he understandably had even less on his pitches than he normally does, if that's even possible.
Even though it came in a losing effort, it was still a fun game to watch that included some memorable moments. New utilityman Augie Ojeda made his Twins debut, and once again reminded us all just how short he actually is. Guzman's homer was the second dramatic home run of the series that caused the Twins to use up their bullpen in a losing effort (Shannon Stewart's 9th inning homer on Friday being the other). And for those of you who watched the bottom of the 18th because you are a "never say die" Twins fan (or just couldn't find anything else to watch on TV) saw Justin Morneau literally golf a baseball about 415 feet over the centerfield fence, which was an almost awe-inspiring feat.
All these extra inning games are taking their toll on the Twins bullpen, however. The starters have been doing their part, but Juan Rincon, J.C. Romero, and Joe Nathan have pitched quite a bit recently. Gardenhire was so concerned about Rincon's workload that he opted to bring in Mulholland, Tuesday's scheduled starter, instead of the team's top setup man. That's Gardy's call, but it sure would have been nice to hold the A's for a couple more innings with Rincon in there. Once again, I was very impressed with the performance of Joe Roa. His five innings means that Rincon, Nathan, Fultz, and Crain will all probably be available for today's game. They might all be needed, seeing as Kyle Lohse will be the one to toe the rubber. Roa once again proved that he is a very valuable member of this team and needs to be retained when Balfour comes off the disabled list.
Sunday's loss bothers me a lot less now that the Twins hold a comfortable six game lead over both the White Sox and the Indians, who have taken advantage of Chicago's ineptitude (and failing health) to seriously challenge the Sox for second place. I'm planning on writing tomorrow's post about these two teams and what the Twins should expect in terms of pressure for the season's final two months.
I'm cutting off today's post a little sooner than normal because I'm getting up a little earlier and heading out to Metrodome for today's series-ending tilt. I'm planning on testing out the $715 million investment all the Minnesota taxpayers put into our new light rail system (I don't include myself in that group since I don't actually pay taxes yet). As you've undoubtedly seen already, it stops right at Metrodome and is supposedly quite the cat's meow. Hopefully this Kyle Lohse start will go better than the last one I attended, in which he was lit up for seven runs by the Red Sox. If in fact he has turned the proverbial "corner" then hopefully we'll see a little proof of that this afternoon.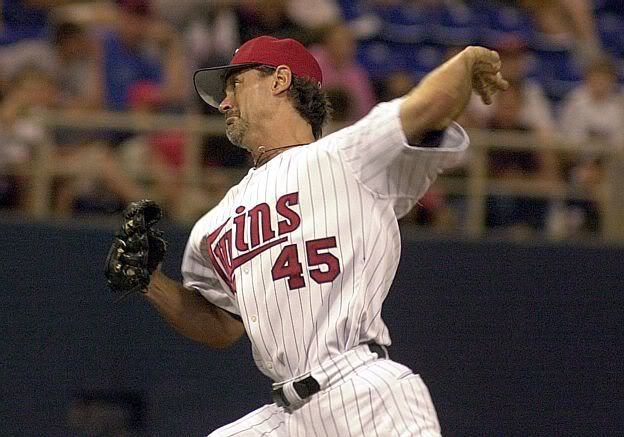 I love the new red hats, but unfortunately, Terry Mulholland does not model them well at all