First of all, I would like to apoligize on behalf of John for his lack of a new post yesterday. The college lifestyle can be hectic, and blogging is often not a top priority (nor should it be, in my opinion). Plus, John has been having some computer problems in his new living accommodations.
Last night, the Twins finished off the three game sweep of the Rangers, pretty much knocking them out of the playoff race. Brad Radke pitched arguably his best game of the season, and it was great to see him bounce back after such a terrible outing last week. He had a whopping nine strikeouts, a huge number for him, to go along with his usual one walk in eight outstanding innings. The Twins were able to score enough runs to get Brad his 10th win, despite leaving 16 men on base.
Tonight, however, is the real treat: Johan "Cy Young" Santana will be on the mound to take on the Royals. Yesterday, Johan was
named the AL's Pitcher of the Month
for the month of August. He had already won the award in July and is the first pitcher since Barry Zito in 2001 to win the award in consecutive months. I was able to procure some spectacular seats for my birthday the other day, so John and I will be in attendence. Feel free to stop by and say hi before the game, as we'll be in row 13 of section 120 (right behind the visitor's dugout). I'll be the one in the Shannon Stewart jersey and John will probably be wearing his red hat. Also, I'm sure you are welcome to
join the group of Batgirl readers
that will be sitting in section 141. It should be a great game and tons of fun!
Sorry about the truncated length of today's post, but I was still holding out some hope that John would get it together in time to post tonight so I got started late. No matter. Twins Chatter will be back in all its full-figured glory on Monday, so be sure and check back here next week! Until then, take care everybody.
-RPM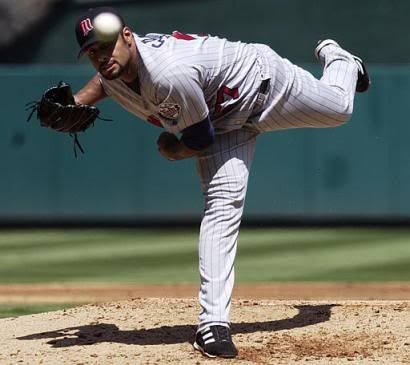 Anyone else think we might have a no-no on our hands tonight? You never know with this guy...