Well,
it's official
. I've had a sneaking suspicion for some time, but now we know for sure that
Christian Guzman is going to be playing elsewhere next season
, namely with the soon-to-be Washington Nationals. I'm happy for Guzie; there was no chance that he was going to get anything near the four years $16.8 million Jim Bowden gave him from the Twins. Frankly, I don't think anyone else out there would have offered our enigmatic shortstop such an outrageous sum of money. Oh well. Guzie's gone and there ain't nothing that can bring him back.
There will be plenty of time to talk about the Twins' future prospects for the shortstop position, so for today, I would like to focus on the Christian Guzman Era in Twins history.
Most of us remember Guzman when he entered the league back in 1999. It was a different age, an age when mere competence was a considered a valuable asset. You can play shortstop and not suck? Hey! You're playing, kid!
The irony in that scenario is that Guzie was probably one of the worst everyday shortstops his first year in the big leagues. He was hopelessly overmatched at the plate as a rookie (.226/.267/.276? Yowza). His defense was also maddening at times. In many ways, his fielding habits were the opposite of what we've come to expect from Guzie: he made some great plays but always struggled with the easy ones.
Yet even during those Dark Times (both for Guzie and the Twins) hope endured. There was something special about this 21-year old Dominican; you knew it was there but you just couldn't quite put your finger on it. He didn't really give us anything to get excited about right away, but the potential was there.
In 2001, we finally saw that potential. I distinctly remember asking myself, What kind of player would Christian Guzman be if he fully realized his promise? The answer? A guy who hits .300, steals bases like there's no tomorrow, and knocks doubles and triples all over the park, wrecking havoc on the basepaths. Guzie played out of his mind the first half of that year, and he was probably the team's most valuable player for those three and a half months. He was most definitely a deserving All-Star selection.
Then came the 2001 Al-Star game. The beginning of the end for this new-and-improved version of Guzman. Some say he hurt his shoulder a few days earlier, some say he hurt it while showing off during workout day, but whatever happened, the result was that Guzie was never the same player after that fateful break. He went on the D.L. for quite some time, and when he came back, his arm was a shadow of it's former self. Gone was the player that would fire the ball to first from deep in the hole, just to show that he could. Instead, we had a shortstop with a maddening affinity for casually flipping the ball in the general direction of first base, relying on Dougie Baseball's superior scooping skills to save him from a surefire error.
The Guzman we've seen for the past three years has truly been an enigma. If you
can
drive the ball to the outfield and hit doubles and triples, why don't you? If you are one of the fastest human beings in the game, why don't you steal more bases? Whatever happened to the theory that players develop more plate discipline as they gain experience? Guzie bucked all these trends.
After six seasons, we've finally figured out just what type of player Christian Guzman is. He's going to hit about .270, play solid-if-unspectacular defense, and steal about 10-15 bases per year. He's not going to help you much, but then again, he probably won't hurt you either. Is that type of player worth $16 million? I sure don't think so, but Jim Bowden obviously feels otherwise.
The one classic Guzman characteristic that I have neglected to discuss thus far is his legendary speed. Guzie is one of those freakishly fast people that really slow people (such as myself) can barely comprehend. You can knock Guzie all you want, but there can be no denying that the man possesses some serious speed. Watching him fly around the basepaths for a triple was simply a thing of beauty.
Hopefully the fans in Washington appreciate that bionic sound as much as we did.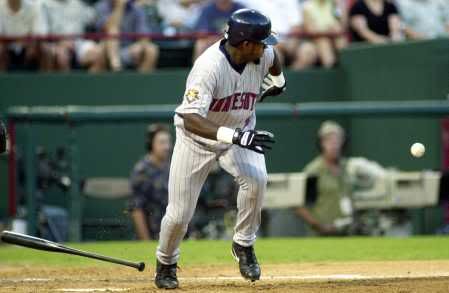 Guzie running out one of his patented swinging bunts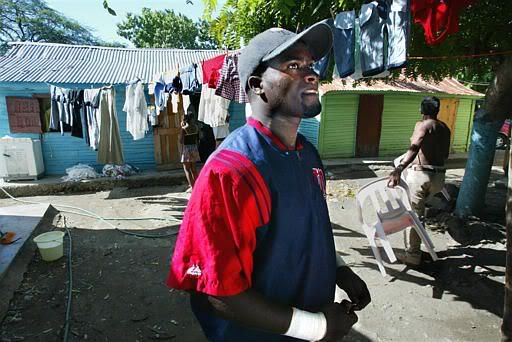 Love him or hate him, you can't deny that Christian Guzman is a man who's come a long way from humble origins