Well folks, even though we might not want to admit it to ourselves, it's time to face reality:
Corey Koskie will not don a Minnesota Twins uniform next season
. It is all but a certainty that he will sign a three-year, $17 million dollar contract with the Toronto Blue Jays today, finally ending his six-year tenure with the Twins after weeks of speculation.
I
correctly predicted this outcome last week
, but rest assured, I derive no joy whatsoever from that fact. Corey Koskie was the quintessential Minnesota Twin: a hardworking, hard-nosed ballplayer who truly earned every ounce of respect he received. A 26th round draft choice in 1994, Koskie became one of the better third basemen in the league and was a key cog in the Twins' turnaround in 2001-2002. It would have been great to keep him on board for a few more years (at least) but alas, it was not to be.
Odds are you're feeling a tad bitter right now, especially given the perception that Terry Ryan and the Twins did not seem to pull out all the stops to retain Koskie. I know we've been doing this a lot lately (first with
Dougie
, and then with
Guzy
) but I think we should first remember all the great things that Corey Koskie did for this organization before we start in with the negatives (believe me, there will be plenty of time for that). Koskie was one of the team's lone offensive bright spots in '99 and '00, hitting over .300 both years. He had a spectacular '01 season, hitting 26 homers and driving in 103 runs (even stealing 27 bases!). He played Gold Glove-caliber defense for a number of years; no one could handle the Astroturf's lightning-fast hops better than Canada's favorite son. And who could forget that oh-so-memorable season-saving homerun last August in Cleveland. It doesn't get any more clutch than that.
We'll have much more to say about Koskie's imminent departure tomorrow (and what the implications might be for the Twins' post-League of Nations infield), but for now, enjoy a few choice photos of everybody's favorite Canadian folk hero/
lumberjack
.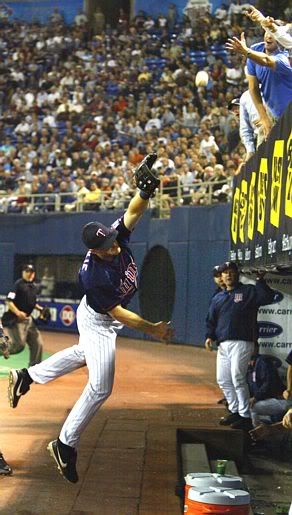 No one ever accuses Corey Koskie of not going all-out.
8/15/04: The swing that saved a season.
One of the most accomplished pranskters in baseball, Koskie's unique
sense of humor will be sorely missed in the Twins' clubhouse next year.