Greetings, loyal readers. Yesterday, as most of you all know, the Twins were able to pull out a season-opening series win against the Mariners, as Carlos "The Jackal" did exactly what he is paid to do. I wasn't able to catch the game because of some other duties of mine, but fortuntately I will be able to get some Twins Chatter milage out of what I did in lieu of the game.

While in Florida a week and a half ago, I conducted an interview with St. Olaf alumni Mike Herman, who also happens to work for the Twins in their media and player relations department. Since this is a field that I may someday enter myself, I thought Mike would make an excellent subject for an interview. Below, I will post for your enjoyment the Twins-related questions that I posed to him. It's a very fascinating interview, and it provides some unique insight into the Twins' front office.

I probably won't have anything new up for tomorrow, as I'm falling behind on my homework. However, I'll be at Friday night's game (along with many of you, I hope) so be sure to cheer on our hometown nine as loudly as possible.

Note: If you would like to read the entire interview (St. Olaf-related questions and all) just click here.
Ole finds home with Twins
By the time most people enter the hallowed halls of higher education, they have long since dismissed any dreams of playing professional sports. But have you ever entertained the possibility making a career with a professional sports team? Mike Herman, former St. Olaf baseball player, is living out such a dream. He is currently holds the position of manager of media and player relations for the three-time American League Central Division Champion Minnesota Twins, dealing with players like Johan Santana, Torii Hunter, and Joe Mauer on an everyday basis. Mike recently took some time out from his busy schedule to chat with the me from the Twins' spring training home in Fort Myers, Fla.
Coming into college, what were some of your career aspirations?
I wanted to go into sports broadcasting. I had done internships with TV stations and also in media relations departments of sports teams. But originally, I wanted to be on TV, but that quickly faded when I realized what my financial situation would be after college. I wanted to make money right away; I didn't want to work for nothing for some small town station. I wanted a job related to sports and somehow related to the media.
You went through a number of different career changes before you ended up here with the Twins. Can you take us through that path?
As a sophomore, I interned for KARE 11 during the summer. My freshmen and sophomore years I also worked for the sports information department, writing articles, interviewing coaches, calling the Star Tribune to give them scores, stuff like that. I was also the sports editor for the Messenger as a junior, and I also wrote some stories after that. I interned with the Phoenix Coyotes for two j-terms. After I graduated, I also interned for a TV station in South Dakota, and that's when I started realizing that I needed to get away from the TV industry and into the public/media relations area.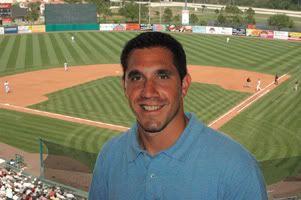 Mike with Hammond Stadium as a backdrop.
Then I started as an intern with the Twins in the winter of 1999. A friend of mine worked for Midwest Sports Channel (MSC), and she was always on the lookout for me for jobs. One day she called me and told me the Twins were looking for someone in media relations, although it was only an internship. I said "I don't care" and called the guy up anyways. Even though they already had their candidates, the guy agreed to take a look at my resume. I called him an hour later and he agreed to interview me. One day I got a call (actually the day before my birthday) offering me the internship, and I've been there ever since. I got the full-time job just before the 2000 season.
As the media and player relations manager, what exactly does your job entail?
I set up interviews, and generally take care of any media requests that come in—commercials, public service announcements, and player appearances (like an autograph signing)—I set all that stuff up. A lot of it is media services; whatever the media wants. My job is to make our club as accessible as any other club in major league baseball. This means that we need to do a lot more than the Yankees in terms of media services, because everyone wants to cover the Yankees.
Another aspect of my job is taking care of the baseball information, like stats, game notes, and baseball-related press releases. Basically, we disseminate information. Our job is to get as much information out there as possible promoting the Twins. There are some cases where we have to deliver negative information, but we try to put a positive spin on it if at all possible.
How does your job differ here at spring training?
It's pretty much the same thing. We have a lot more interview requests during spring training, just because there are so many more players. For example, because Justin Morneau is from Canada, we get every radio station in Canada wanting to kick off baseball season by interviewing Justin. But because there are so many of them, we have to be careful about how we handle it. Everyone thinks that when you come to Florida for four weeks it's a vacation, but it's actually a lot of work down here. I'm not complaining, but we put in long days under the hot sun and humidity. But it's still a good time.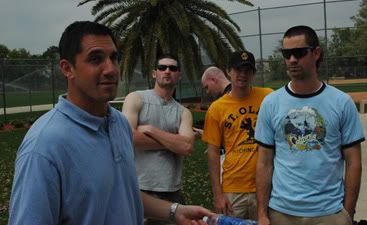 Mike giving a tour of the facilities to some St. Olaf baseball players.
What would you say are some of your favorite parts of your job?
Number one, I get to watch baseball for a living. Growing up, playing the game, I just love the game of baseball. I get to be around a great organization, one of the best organizations in the league to work for. PR people from different teams come into our office when their team is in town and comment on how there's a different feel when you walk around the Twins offices. Everyone's happy, everyone's upbeat. Part of that is because the upper management treats everyone so well. In our organization, most people still come from within. You start here, you keep moving up, and finally, you get to the top.
One of my other favorite things is that I get to travel a lot. I get to go on a lot of road trips, see a lot of different cities and ballparks, and meet a bunch of different people.
What are some of the disadvantages?
I do have to put in a lot of hours, which is hard sometimes. Also, sometimes you do have to deal with the egos [of the players]. We've been pretty lucky on the Twins—we don't have many guys that are that egotistical. A lot of the times you just have to be careful what you ask of these guys. They're financially secure; they don't need $100 here, $100 there. You have to pick and choose when you go to them for a favor.
What is so unique about the Twins organization that allows them to win all these awards like Baseball America's "Organization of the Year"?
On the field, I think a lot of it comes from scouting and development. Our minor league system has always been known as one of the stronger systems in the game, so the credit there has to go to our minor league coaches, scouts, our general manager, assistant general manager—people like that. Another thing, which I mentioned earlier, is that everybody (even upper management) respects everyone else, regardless of where you are on the totem pole.
That also applies to the baseball side of things. We have so many homegrown players, especially compared to teams like the Yankees that barely even have a farm system [due to trades], and we always know there's someone in the minor leagues that can come up and help us. There's a "Twins way" of playing, and it's taught in the minor league system. If we call a guy up, he knows what's expected from him in order to get to the major leagues, because that's all they've been pounding in his head for the last six years. That's a big reason why this organization has been so successful.
As a Twins fan, I'm curious: How do you think the 2005 Twins will fare?
I don't see why we can't repeat as Central Division champions. Our pitching staff is still one of the best in the major leagues. In spring training we lead the American League in earned run average. There's still the matter of getting production out of the shortstop position but other than that, we should be just fine.