On behalf of my co-blogger John Betzler, I want to welcome all our first-time visitors to Twins Chatter, our humble Twins blog. We began this joint endevor way back in April as a way to express our Twins-related thoughts and opinions to the public. We've had our ups and downs since then, as have the Twins, but we're back on track and ready to turn it on for the postseason. We post nearly every weeday, with John and I alternating every other day. The fact that we have two writers is a source of strength for this site. You get twice the amount of insight, analysis, and opinionated Twins discussion, which helps keep things lively. I consider Twins Chatter to be the blog of the "common man": we use statistics on occasion, but for the most part we rely on our observations and knowledge of the game for material.
After you read my post for today (entitled "Can It Be Done" and located directly below this entry), feel free to scroll down the page and read our posts from earlier this week as well. Also, be sure to brose through our Archives section, which is on the left side of the page.
I hope you like what you've seen at Twins Chatter. If you have any comments/questions/cocerns, simply click on the "comments" link below or e-mail me at
twinsfan21@msn.com
or John at
john.betzler@mnsu.edu
. Thanks again for stopping by and be sure to check us out again tomorrow (and throughout the postseason) when John will post his thoughts and reactions from tonight's Game 1 of the ALDS.
-Ryan Maus, Twins Chatter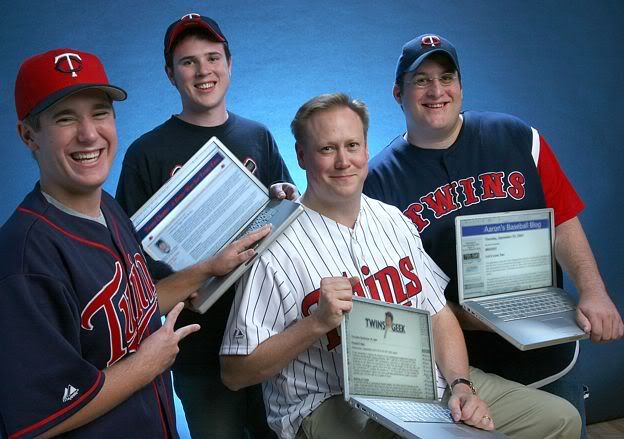 From left to right: Me (Ryan), John, John Bonnes (a.k.a Twins Geek), and Aaron Gleeman