2004 began as a year of unknowns for the defending Central Division Champion Minnesota Twins, but many fans consider that to be a source of excitement. One of the (few) joys of rooting for a small market franchise is the heightened sense of anticipation that surrounds the new team each spring. The most pressing concern for Yankee fans, for example, is whether the team will win 100 or 105 games during the regular season. Such is not the case here in the land o' lakes. The words "high expectations" and "Twins fan" have not traditionally gone hand in hand over the years.
This spring, we had many important questions that could only be answered over the course of 162 games. Could Carlos Silva develop into a serviceable starter? Would talent translate into performance in the Twins' bullpen? Would the offense finally develop some consistently? The answers to those questions were determined (yes, yes, and no), as were the answers to dozens of others. However, one of the spring's most intriguing issues was not fully illuminated: How would Minnesota favorite son and über-prospect Joe Mauer handle his role as the team's everyday catcher?
Unfortunately, a definitive answer to that question never came. Below is a timeline of Mauer's rookie season. As you can see, while there were some ups, they were far outweighed by the downs.
April 5
: Went 2-for-3 with two walks and two runs scored in major league debut.
April 6
: Injured left knee sliding while chasing a foul pop.
April 7
: Placed on disabled list and underwent surgery to repair a left medial meniscus tear.
June 3
: Returned to active roster.
June 6
: Hit first major league home run, off Detroit's Esteban Yan.
June 11
: Went 3-for-3 with a homer and two RBI to raise average to .346.
July 2
: Elevated to No. 3 spot in Twins batting order.
July 7
: Went 4-for-5 to push average to .340.
July 15
: Struck out as pinch hitter in last regular-season appearance.
July 19
: Placed on disabled list for second time.
Aug. 12
: Passes two kidney stones and has a third removed.
Sept. 24
: Exam ruled out additional surgery on knee, and rehab intensified.
Oct. 14
: Experiences discomfort after light-to-moderate catching activities in Florida
Oct. 16
: Given clean bill of health after scare, will play in Instructional League games this fall
Here are Mauer's final totals for 2004:
| G | AB | R | H | 2B | HR | RBI | BB | SO | BA | OPS | SLG | OPS |
| --- | --- | --- | --- | --- | --- | --- | --- | --- | --- | --- | --- | --- |
| 35 | 107 | 18 | 33 | 8 | 6 | 17 | 11 | 14 | .308 | .369 | .570 | .939 |
The Verdict:
The sample size was very small (about 1/5 of a season) but Joe was clearly one of the team's best players when healthy this season. Very few people thought that he would hit for much power as a rookie, especially considering that he just four homers in 2003 at AA, but Mauer surprised us with six home runs and an outstanding .570 slugging percentage. He was also extremely good behind the plate, committing just two errors and throwing out 7 of 18 potential base stealers (39%). Longtime Orioles scout Deacon Jones summed it up perfectly earlier this season: "Everything you've heard about this kid is true." For those 35 games, almost everyone's expectations were exceeded. Mauer had been moved up to the #3 spot in the order and was
actually producing
(unlike Hunter, Koskie, and Mientkiewicz). He was even drawing some Rookie of the Year interest, despite the fact that he had missed the previous two months.
Unfortunately, it was all too good to be true. I guess it was too much to ask from the baseball gods that everything would go right this season, although we did catch our fair share of breaks overall. Mauer didn't play after mid-July, and it was feared for a while that he might never catch again. While that doesn't appear to be the case anymore, 2004 was pretty much a wash for Joe. We glimpsed his potential, but he simply wasn't healthy enough for anyone to fully determine how he will perform at the major league level over the next few years.
The Future:
We may not have a seasons-worth of information to go off, but that's not going to stop me from speculating about 2005 and beyond! I firmly believe that Mauer will be the team's Opening Day catcher once again next year. The fact that he was able to overcome this most recent hurdle is a very good sign for Joe, as he's shown that every little setback is no longer a possibly career-threatening turn of events. Everything I've heard about the nature of this injury points to a full recovery. The knee can function normally without the meniscus for a very long period of time; it just takes a while for the body to get acclimated to life without it. Mauer is slowly getting used to this, and he seems to be making good progress.
I fully expect to see nearly a year's-worth of June/July numbers from Joe in 2005: batting average around .300, perhaps 20-25 homers, and 85-90 RBIs with an OPS around .850. I had tempered expectations entering 2004 because I wasn't sure how long it would take him to adjust to big league pitching, but the old axiom proved true: with the right swing, you can hit at any level. Joe's got one of the sweetest swings around, and I can't wait to see him put in a full season.
Major league pitchers, consider yourselves forewarned. You ain't gonna be so lucky next year.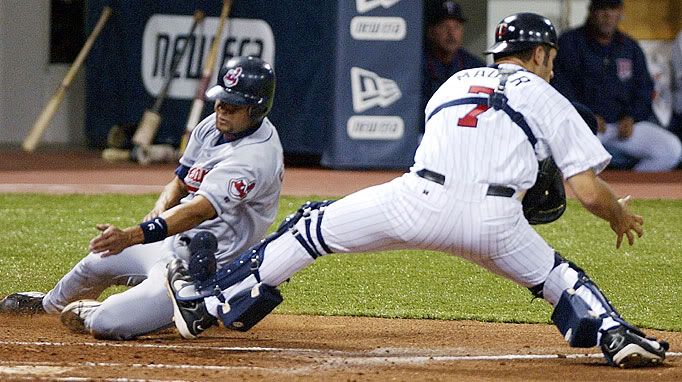 This was a scene we saw far too seldomly in 2004—Joe Mauer on the field.
If you're actually still reading this far down the page, you might be interested to know that I went 12-1 this week with my football picks over at Seth Speaks (outdistancing a talented field of 11 other "experts"). I am one of those unfortunate people who never wins anything, so please allow me a brief moment of celebration: Boo yah!

Thank you. We now return you to your regularly scheduled Twins discussion.