We've known it was coming for quite some time, but no amount of anticipation can compare to the real thing. Our Minnesota Twins clinched their third consecutive American League Central Division championship last night, crushing their "rivals" from the South Side of Chicago, known as the "Bitch Sox" in some circles. I put the "rival" in quotes for the oft-cited reason that for a rivalry to exist, each team must at least
occasionally
beat the other. Over the past three years, the White Sox have wilted in the heat of the pennant race quicker than John Kerry's views change under the heat of scrutiny.
Of the three division championships, this year's has to be the most pleasant surprise. In 2002, the Twins were a team on the rise. The Indians and White Sox were both teams in decline, and the Twins experienced a storybook season and were never seriously challenged. In 2003, the team was tabbed a couple publications as the team to beat in the American League and woefully underachieved in the first half. A second half for the ages (and subsequent White Sox collapse) allowed the Twins to collect 90 wins and their second straight playoff berth.
This year, many "experts" predicted that the Twins would fall back to the rest of the pack. Not many were stupid enough to bet against the Twins (John Kruk comes immediately to mind) because they recognized the ineptitude of the Sox, but I read numerous accounts that believed 82-85 wins would be enough to win the division. These people woefully underestimated the talent of the Twins' farm system and the genius of one Terry Ryan.
However, our team has exceeded almost everyone's expectations this year, including my own. They clinched the division with 12 games left to play and will probably win 95+ games overall. In my opinion, year's version is the best of the three championship teams. It is also the one best equipped to advance in the postseason. In 2002, just getting to the playoffs was an amazing accomplishment, and anything on top of that was simply icing on the cake. Last year, a first round victory seemed improbable, even after a Game 1 win. Beating the Yankee juggernaut seemed unlikely, especially in Yankee Stadium.
I firmly believe that 2004 is the Twins' year. I wouldn't have said that last year, and I certainly wouldn't have said it back in 2002. The differences are obvious: Johan Santana, Joe Nathan, and Justin Morneau.
Tomorrow at Twins Chatter, we'll begin out
Playoff Preview
series of articles. There are a lot of things to cover before October 5, and we plan on finally implementing some method into our madness. Right now, I'm simply reveling in last night's victory. It was the first step in what promises to be quite a journey.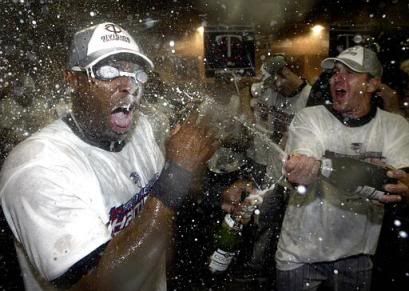 Torii and the Twins celbrate in the clubhouse after the game