"The reason that you have the big lead is so that you're still in first when something like this happens."
-Joe Torre after the Red Sox cut the Yankees' lead in the AL East to 5 ½ games
When I heard Torre say this on TV the other day, I was struck by the simple yet often overlooked truth of the statement. I think it applies very well to the Twins' current situation. Sure, they lost 2 of 3 to the Angels this weekend and finished the road trip with a 3-4 record, but when you have a 7 or 8 game lead, such things are mere trivialities. It also helps that the Indians and ChiSox did their part by splitting a four game series over the weekend.
In all actuality, there is absolutely no shame in winning one game against the Angels and then coming close in another (damn you, Adam Kennedy). Even the Yankees weren't able to do as much last week when they were swept by the Halos. Brad Radke experienced a little hiccup on Friday, but Santana further solidified his already-solid case for the AL Cy Young award on Saturday. Even Carlos Silva got into the act yesterday, pitching five pretty decent innings while allowing one run. If the Twins can catch a break with their playoff schedule and get that extra day off during the Division Series (as they did last year), Gardy might just have found his third starter. Neither Lohse nor Mulholland nor Silva has pitched well enough overall to actually
deserve
to start in the postseason, but if the Twins can squeeze five innings from Silva in a Game 3 and then piece the rest together with the bullpen, it might just be crazy enough to work.
Mauer Matters
If you looked carefully at the Twins' dugout this past road trip, you probably saw a familiar (and welcome) face: Joe Mauer. Mauer has joined the team and is taking batting practice as his injured knee heals. Terry Ryan talked a little about Mauer on the WCCO "Inside Twins Baseball" show yesterday, and I was slightly encouraged by what he had to say. He said that Joe has looked very good swinging the bat and is experiencing minimal soreness in his knee. I also gleaned that from TR that it is unlikely Mauer will catch much (if at all) this year. It does sound like he might be ready to hit before the end of the year, however. How can does this affect the Twins' postseason roster plans? Since Mauer is on the DL, he can be "added" to the postseason roster until almost right before the playoffs begin, so there is no rush with activating him before Tuesday's deadline. The real question is, do the Twins have room on their postseason roster for another left-handed pinch hitter, even one as good as Joe Mauer? They already have one in Jose Offerman, and the only two starters who Gardenhire would actually consider pinch-hitting for are Blanco and Rivas. If Mauer can't even enter the game as even a one or two inning defensive replacement for Blanco, then his usefulness as a pinch hitter diminishes greatly. The Twins would then have to use a roster spot on Rob Bowen as well. This is however something to consider as Mauer continues to improve and October looms near…
Jason Kubel Called Up
Another thing Terry Ryan discussed during yesterday's radio program was that the Twins were going to make some moves before the August 31 roster deadline. The first of these moves was made last night, as the team
called up
#1 prospect Jason Kubel. This was expected, as the Kubel needed to be with the team on the deadline in order to be eligible for the postseason roster. If you remember, the Twins did the same thing in 2002 with Cuddyer and he hit pretty well in the ALDS that year. Also, if you'd like a little more information on Kubel, be sure to check out
this post
from Aaron Gleeman the other day. Jesse Crain was "sent down" to make room for Kubel, but he isn't going anywhere. All this means is that he'll be unavailable for Tuesday's game before he is "recalled" when rosters expand on Wednesday, September 1. The team will probably make a least one or two more roster moves either tomorrow or Tuesday, so stay tuned.
10,000 Strong
By the time you read this, Twins Chatter will have been visited by over 10,000 people in the 144 days we have been online. I believe we've found our "niche" as one of the better lesser-known Twins blogs, right behind the big boys over at
Twins Geek
,
Aaron's Baseball Blog
,
Batgirl
, and also
Seth Speaks
. Even spread out over 5 months, 10,000 is a pretty big number, and on behalf of Twins Chatter I want to thank everyone who's comes by to check us out. You're still here, so we must be doing something right :)! We plan on remaining your source for Twins talk all the way through the playoffs and even during the off-season.
The Twins have an off-day tomorrow, so plan on seeing more postseason roster speculation in this space. We should have more information about what the Twins plan on doing by then, and no doubt John (or I) will feel the need to put in our two cents worth. Until then, take care everyone.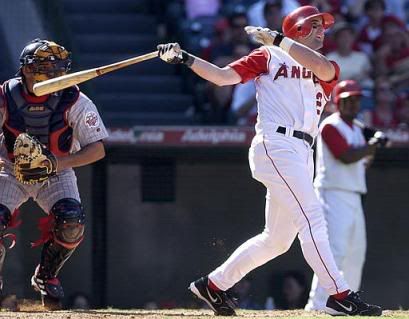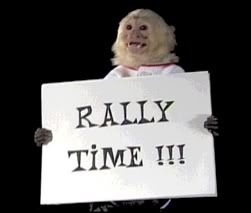 Adam Kennedy, that accursed Rally Monkey lives in thee